Source: Global Times
Chinese athlete Yang Qian on Saturday claimed the first gold medal of Tokyo Olympic Games in women's 10m air rifle. This is also the first gold medal for the Team China.
Yang won gold with 251.8 points, a record-breaking score. Russian markswoman Anastasiia Galashina took the silver and Nina Christen of Switzerland bagged the bronze, the Xinhua News Agency reported.
Yang was seen putting on her medal to the sound of the Chinese national anthem – the first one to be played at the Tokyo Olympics. Due to the pandemic, medal winners of Tokyo Olympics will put on their medals by themselves.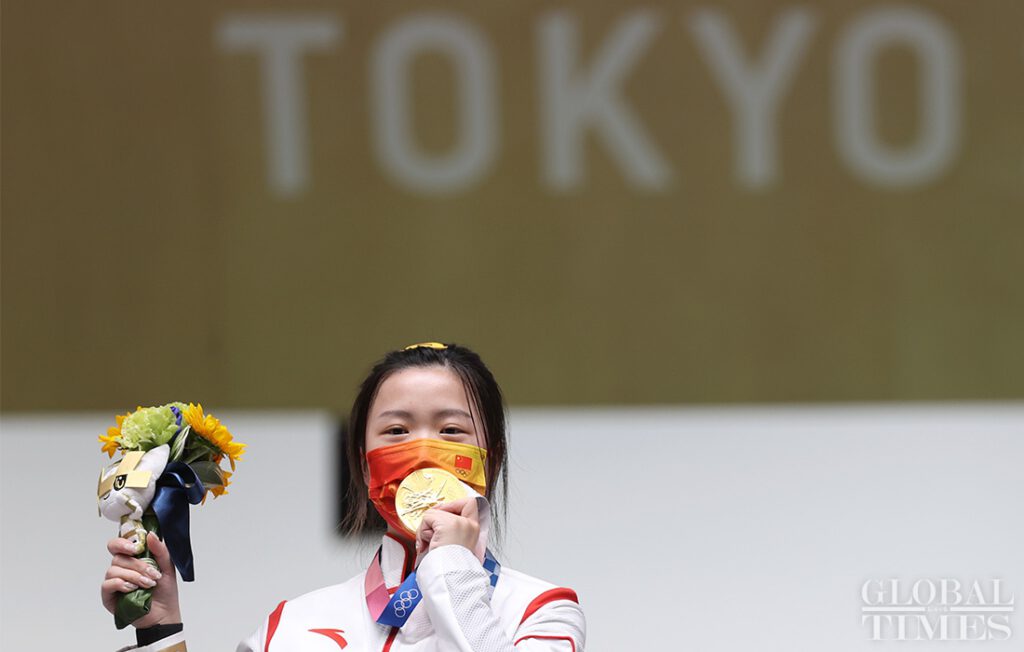 After Yang won the gold medal, Chinese Vice Premier Sun Chunlan sent congratulation messages to the Chinese athletes delegation on behalf of the Communist Party of China Central Committee and the State Council.
Amid the raging COVID-19 pandemic and the once-in-a-century downpour that recently affected Central China's Henan Province, the first gold medal earned at the Olympics has lifted the spirit of many Chinese.
"Yang Qian wins first gold of Tokyo Olympics" became the top trending topic on Chinese Twitter-like social media platform Sina Weibo with floods of netizens sending their congratulations to the young athlete.
Many said it was a special moment for them watching Yang putting on the gold medal.
Yang, who was born in 2000 in East China's Zhejiang Province, was selected to the shooting team of Ningbo sports school in 2011 when she was in fourth grade of elementary school, according to media reports.
Yang is current studying at Tsinghua University, a top Chinese school, and is a member of the Tsinghua shooting team.
In 2019, she was selected to the national team training list.
During the pandemic, Yang has been training in the national team behind closed doors. Yang won all four trials in a row and was selected for the Tokyo Olympics.